What is Glass Bead Blasting?
Glass bead blasting or pool bead blasting is a shot blast process which removes calcium deposits by applying fine glass beads to a low air pressure stream which gently removes deposits. When done properly calcium can be removed without damaging the surface. It is used to clean deposits from Pebble Tec, stone and many other surfaces. It also removes embedded algae and brightens tile grout. Glass bead blasting is a safe and effective technique to completely remove the calcium and scale deposits from your back yard attraction. The results are far better than using harsh acids and chemicals which take more time and money to remove the scale.
Service Areas:
Ahwatukee - Apache Junction - Avondale -  Carefree - Casa Grande - Cave Creek - Chandler - Fountain Hills - Gilbert - Glendale - Gold Canyon - Maricopa - Mesa - Paradise Valley - Peoria - Phoenix - Queen Creek -  Scottsdale - Tempe - Surprise - Goodyear - Litchfield Park - Arizona.
Glass beads are manufactured from lead-free, soda lime-type glass, containing no free silica that is made into preformed ball shapes. Glass beads produce a much smoother and brighter finish than angular medias. Glass bead blasting produces a clean, bright, satin finish, without damage to Pebble Tec or stone. Glass beads are easy to vacuum and can be recycled approximately 30 times. Chemically inert and environmentally friendly, glass bead blasting is a great method for removing calcium from Pebble Tec and stone.
The Best Choice to Clean Pebble Tec
There are many types of media used to remove calcium deposits from a pool's waterline. Our experience has taught us that glass beads are best when it comes to blasting Pebble Tec. Not only will glass bead blasting take a fraction of the amount of time that a pumice stone or brush will, it also does a better and more complete cleaning than any other media available for blasting Pebble Tec.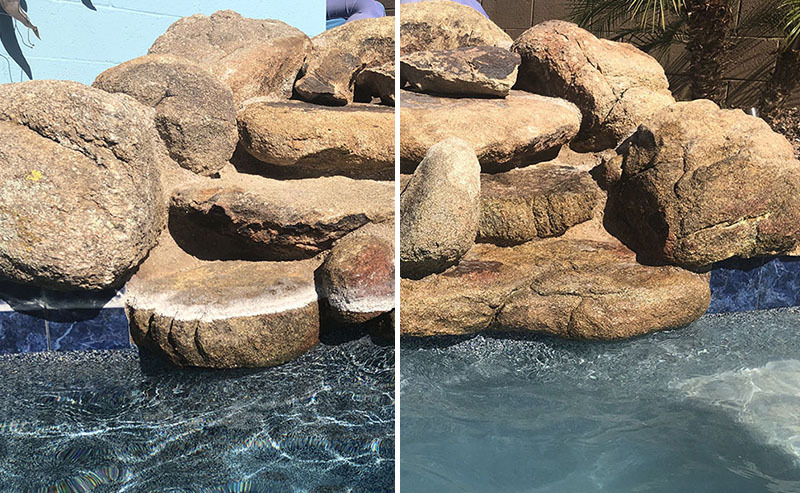 What People
are Saying…
It was such a comfort to know that Arizona Bead Blasting could not only clean my pool tile, but do so without draining the pool. We were able to swim the same day! Thanks for all your hard work. I'm a believer!!"
− Gail Blanck Carefree, AZ
AWESOME!! Arizona Bead Blasting was very professional, responded promptly and were extremely knowledgable. We didn't realize our pool tile could look so beautiful again. We are beyond satisfied and will recommend Arizona Bead Blasting's service to friends, family and co-workers.
− Jen Wilson Chandler, AZ
After years of thinking I could clean my tile on my own, I finally gave up and called AZ Bead Blasting on the recommendation of a friend! The owner was SO professional and friendly and the job he did was far beyond what I expected! My tile looks brand new. I wish I hadn't waited so long to call! I highly recommend them to everyone!!
− Dave Stevens Scottsdale, AZ
Thanks Mark for your hard work. Sheri and I are amazed by how beautiful our pool tile looks. We will see you next year!
− Andy & Sheri Marshall Gold Canyon, AZ