Glass bead blasting: Clearly Superior Pool Cleaning
Servicing Chandler, Gilbert, and the Phoenix metro area.
Regular pool cleaning and maintenance are crucial in maintaining your pool's sparkling appearance. But a common issue often faced by pool owners is the scale buildup and staining on pool walls and tiles due to high pH levels, as well as Arizona's hard water and extreme heat.
Tiles that are grimy can cause premature grout wear and make the pool uninviting in appearance — not to mention unsafe for swimming. This eventual buildup can permanently damage pool tiles, especially if they're not cleaned or treated in a timely manner.
Glass beads to the rescue
Glass bead blasting — or pool bead blasting — is a shot-blast process that removes calcium deposits, dirt, grime, oil, grit, stains, and chemical residue. Fine glass beads are soft abrasive materials applied to pool walls and tile with a low air pressure stream to remove deposits gently. When done properly, calcium can be removed without damaging the pool surface.
Glass bead blasting cleans deposits from PebbleTec, stone and many other surfaces. It also removes embedded algae and brightens tile grout. Glass bead blasting is a safe and effective technique to completely remove the calcium and scale deposits from your backyard attraction. The results are far better than harsh acids and chemicals, which take more time and money to remove the scale.
Glass beads are manufactured from lead-free, soda lime-type glass, containing no free silica that's made into preformed ball shapes. Glass beads produce a much smoother and brighter finish than angular media. Glass bead blasting produces a clean, bright, satin finish, without causing any damage to PebbleTec or stone. Glass beads are easy to vacuum and can be recycled approximately 30 times. Chemically inert and environmentally friendly, glass bead blasting is a great method for removing calcium deposits.
The best choice to clean PebbleTec
Many media types can remove calcium deposits from a pool's waterline. However, our experience has taught us that glass beads are the most effective for safely cleaning PebbleTec. It's aggressive enough to remove the toughest stains and hard water deposits yet gentle enough not to damage tile or grout. Many companies that use pressure washing systems can't clean PebbleTec, because the high pressure from the water will blow out the pebbles in your pool coating. Not only will glass bead blasting take a fraction of the time that a pumice stone or brush will, but it also does a better and more complete cleaning job than any other media.
It pays to maintain your pool's beauty
Bead blasting isn't a do-it-yourself project. It takes experience, training, tools, and equipment to complete the job safely — and do it on time and within budget. At Arizona Bead Blasting, we remove all the mess, frustration and wasted time from cleaning your pool.
It's important to note that we do not seal pool tile after cleaning it. The sealer that many companies use is polymer-based and dries glossy. However, after a few months in the Arizona sun and exposure to chlorine in the water, the seal goes bad and starts to fade. This causes a haze that dulls and fades the tile. In our expert opinion, if you clean the tile properly, there's no reason to seal it.
If you'd like to increase your pool's aesthetic beauty, produce a smooth finish, and create a safe swimming environment, take advantage of the expert help offered by our pros at Arizona Bead Blasting.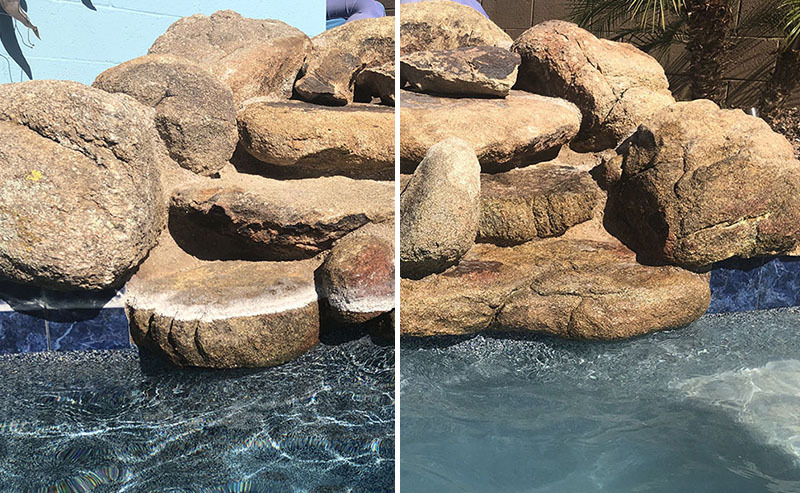 What People
are Saying…
It was such a comfort to know that Arizona Bead Blasting could not only clean my pool tile, but do so without draining the pool. We were able to swim the same day! Thanks for all your hard work. I'm a believer!!"
− Gail Blanck, Carefree
AWESOME!! Arizona Bead Blasting was very professional, responded promptly and were extremely knowledgable. We didn't realize our pool tile could look so beautiful again. We are beyond satisfied and will recommend Arizona Bead Blasting's service to friends, family and co-workers.
− Jen Wilson, Chandler
After years of thinking I could clean my tile on my own, I finally gave up and called AZ Bead Blasting on the recommendation of a friend! The owner was SO professional and friendly and the job he did was far beyond what I expected! My tile looks brand new. I wish I hadn't waited so long to call! I highly recommend them to everyone!!
− Dave Stevens, Scottsdale
Thanks Mark for your hard work. Sheri and I are amazed by how beautiful our pool tile looks. We will see you next year!
− Andy & Sheri Marshall, Gold Canyon