Pool Tile Salt Blasting is a gentle way to remove the following from pool waterline surfaces safely:
Calcium
Mineral deposits
Oily residue
Mold
Algae
Scale
Salt blasting is used for pool tile surfaces that can't be cleaned with glass beads due to their delicate nature or homeowner neglect. This method works beautifully on glass, black, decorative, and heavily calcified pool tiles, leaving them spotless and shining.
The restoration you want. The results you need.
Pool Tile Salt Blasting is like sand blasting but with different air pressure and media. Our professional techs use Kieserite, a natural, mined mineral salt (often compared to Epsom) specially formulated for swimming pool tile.
Kieserite is shot at low pressure, and when it hits the surface, the force frees the calcium from the pool tile. The spent media and calcium deposits sink to the pool bottom, where it's vacuumed out.  This process costs slightly more per linear foot than glass bead, but the results are worth it — your tile will look as clean as the day it was installed.
Why Give Kieserite a Shot:
100% Non-Hazardous

– Safe for people, pets and plants

PH-Neutral

– Doesn't change your pool water chemistry

Safe on all surfaces

– Glass, ceramic, and porcelain tile, plus Pebble-Tec and stone

Water Soluble

– Won't harm pool pumps or pool equipment
Pool tile salt blasting is not a do-it-yourself project. Our tools and equipment are custom-made for salt blasting, and we use Kieserite for the best results. Let Arizona Bead Blasting take all the mess and frustration out of cleaning and removing calcium from your swimming pool tile.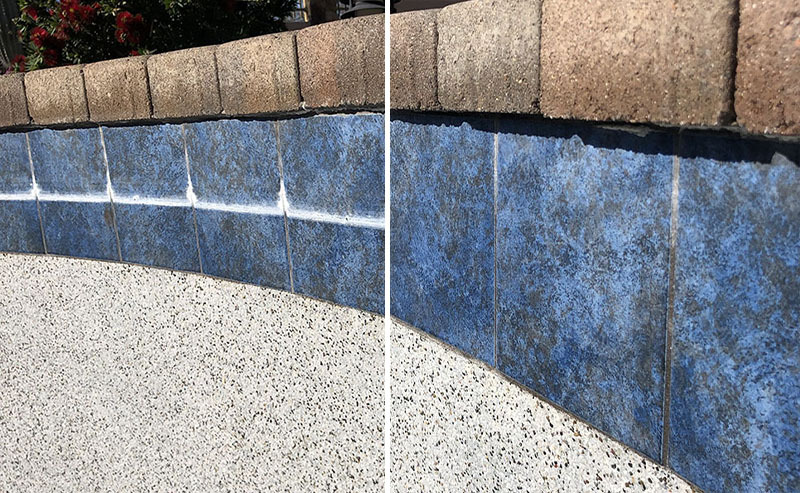 What People
are Saying…
It was such a comfort to know that Arizona Bead Blasting could not only clean my pool tile, but do so without draining the pool. We were able to swim the same day! Thanks for all your hard work. I'm a believer!!"
− Gail Blanck, Carefree
AWESOME! Arizona Bead Blasting was very professional, responded promptly and was extremely knowledgeable. We didn't realize our pool tile could look so beautiful again. We are beyond satisfied and will recommend Arizona Bead Blasting's service to friends, family, and co-workers.
− Jen Wilson, Chandler
After years of thinking I could clean my tile on my own, I finally gave up and called AZ Bead Blasting on the recommendation of a friend! The owner was SO professional and friendly and the job he did was far beyond what I expected! My tile looks brand new. I wish I hadn't waited so long to call! I highly recommend them to everyone!!
− Dave Stevens, Scottsdale
Thanks Mark for your hard work. Sheri and I are amazed by how beautiful our pool tile looks. We will see you next year!
− Andy & Sheri Marshall, Gold Canyon