Glass Tile: A Popular Trend In Pool Design.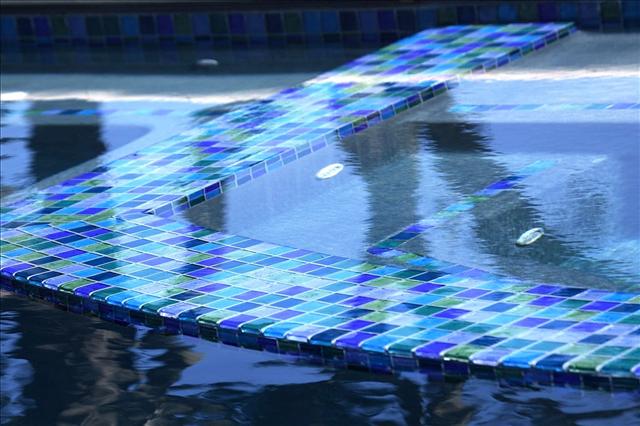 In Arizona glass tile has become a popular substitute for the "norm" ceramic/porcelain pool tile.  The beauty of glass is unmatched.  Homeowners can choose from many different sizes, shapes and colors.  This changes the ordinary cookie cutter pool into a brilliant backyard work of art. Arizona Bead Blasting salt blasting technique can make glass tile look like the day it was installed with no damage.  Call, click or test for your FREE estimate.
Things to consider when working with glass tile:
Price does not always equal quality.  Glass tile is manufactured in many different parts of the world.  China, Mexico and Italy are some of the top suppliers each having different qualities and standards.  Be sure to do your research or work with a local contractor to make sure you get the best quality for your price point.
Choose a style that sets the mood.  Take time at the selection process to do your research.  Whichever style, size or color you choose, remember your personal style and the environment in which you are using it. If your taste is bold then fluorescent pink interior and trim is not a problem.  If you prefer a more monochromatic style then matching the tile color to the surrounding backyard features, such as, decking, landscape and furniture would suit you better.  Either route you choose chances are a builder can bring it to life.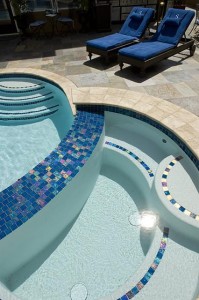 When considering where in your pool and hot tub you will want glass tile, think about the practical use of it.  Glass is very slippery so on steps might not be the best choice.  Adding one or two rows of a non-slip tile for safety can help.  If you are installing glass tile in a hot tub you might NOT want to install a tile that has sharp edges; sitting or leaning your back on these types of tiles can cut or irritate your skin as grout wears over time.  These are better suited to a tile band where people rubbing up against is not an issue.  Rub your hand over a non-grouted sample.  If you can feel rough edges scratching at your skin, you will feel the same on your pool and hot tub interior seats and steps.
Finally the most important thing to remember and it's something the builder or designer always over looks and that is keeping your glass backyard masterpiece clean!  As we all know Arizona has very hard water. Calcium will deposit anywhere were water meets air and any surface near or under water features. (Spa spill over, waterfalls, fountains, negative edges etc.)
If you are in the market to build a new swimming pool and are interested in installing glass tile, check out the amazing examples on this site.  LIGHTSTREAMS GLASS TILE.