Arizona Bead Blasting Does Not Seal Pool Tile. Here's why…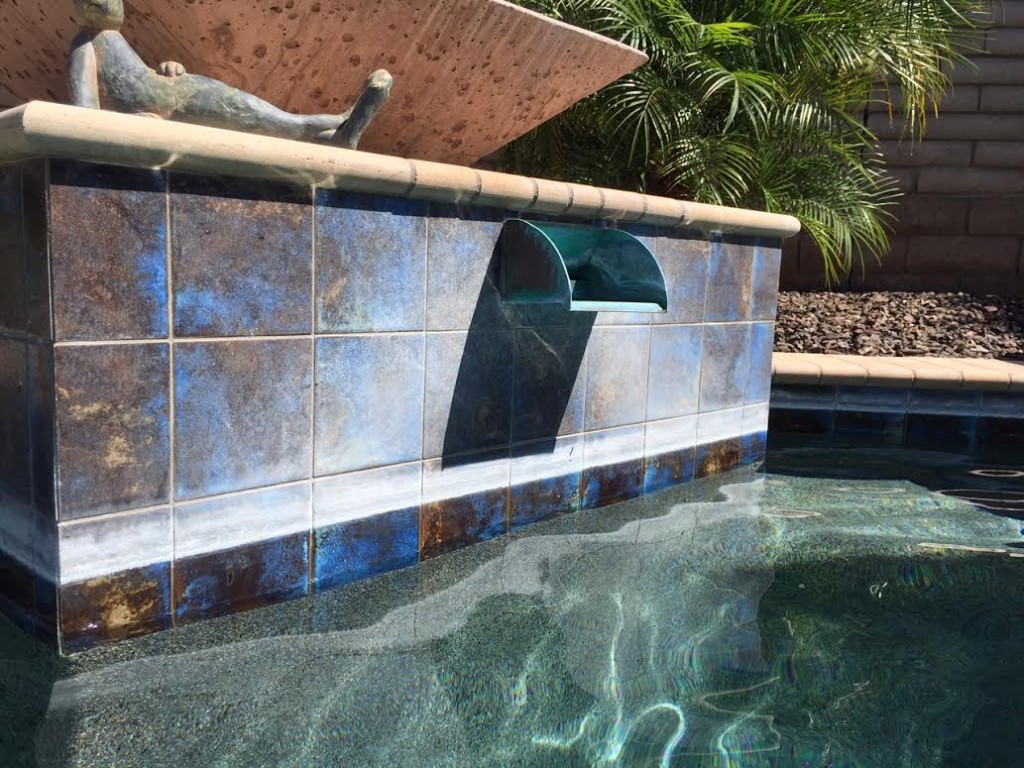 Ever wonder why your tile looked great for about three months after cleaning and then you noticed your tile begin to haze over?  Well chances are the company that cleaned your tile sealed the entire water line and raised tile as well.
Kathy in Peoria was very upset with the haze on her tile that you see above.  Our competitor applied a sealer know as TPS.  She said her tile looked amazing for about two months then started noticing something wrong.  She contacted the company who performed the service and they told her that what she was seeing was normal.  Sensing BS in the air, Kathy called us to come out and take a look at her tile and give her our thoughts.  THIS IS NOT NORMAL! THIS IS WHY WE DON'T SEAL POOL TILE! Back when glass bead blasting was the most popular method for removing calcium from pool tile there were many companies cleaning too aggressively and striping the glaze off the tile surface.  In order to hide the damage the company sealed the surface with TPS.  TPS is a polymer-based sealer that dries glossy.  However, after a few months in the Arizona sun and exposure to the chlorine in the water, the seal goes bad and starts to fade.  Unfortunately this haze in most cases is permanent!  What was a beautiful blue tile in now dull and grey!  Most of our competitor are still sealing tile and telling folks that is helps protect the tile and prevent future build up. I'm calling BS on that! Arizona Bead Blasting has been cleaning pool tile with glass bead and now salt blasting for 14 years and has never sealed a single pool tile!  If you clean the tile properly there is no point in sealing.  Glaze, that protect the tile, is basically melted glass and if its not damaged the tile will out last us.
So next time someone wants to seal your pool tile and promising it will protect the tile and prevent future build up…..just remember Kathy's pool above…
(If you look above the original finish of the tile can be seen below the calcium line…)
Special Thanks to Ginger!  She was a great helper!